3DPageFlip Flash Catalog Templates for Nature 1.0
by 3D PageFlip Ltd.

Version: 1.0
Release Date: 22 Nov 2011
Supported Languages: English
Supported OS: WinXP,WinVista,WinVista x64,Win7 x32,Win7 x64,Windows2000,Windows2003
File Size: 2.19MB
Program Type: Freeware
Price: $0.00


Nature, in the broadest sense, is equivalent to the natural world, physical world, or material world. "Nature" refers to the phenomena of the physical world, and also to life in general. It ranges in scale from the subatomic to the cosmic./p>

Beautiful nature pictures, makes you appreciate our planet Earth. Beauty in nature has historically been a prevalent theme in art and books, filling large sections of libraries and bookstores. That nature has been depicted and celebrated by so much art, photography, poetry and other literature shows the strength with which many people associate nature and beauty.

The Nature Theme package provides templates designed with beautiful nature scene, like falls, desert, star sky, polar lights, snow, sunglow, etc. You can use the themes to beautify your page turning 3D ebooks, and impress them with the nice book layouts..

Download URL:
http://3dpageflip.com/themes/download/3DPageFlip_Themes_Pack(nature).zip


1. Start 3D PageFlip program, design "Page Layout", set logo file, logo link, base color, tilt angle, background config and so on, click "Apply Change";

2. Click 3D book icon and then choose "Export Current Settings as Themes", define output folder and theme name to save directly;

3. When you want to use, just click the 3D book icon to choose "Import Theme", then view your imported theme in template selection interface to choose and use.


Note:
All free 3d flippingbook Themes are available in any 3DPageFlip software.
With those Themes & Template you can make more professional and interactive 3D Flash Flipping Book as you want.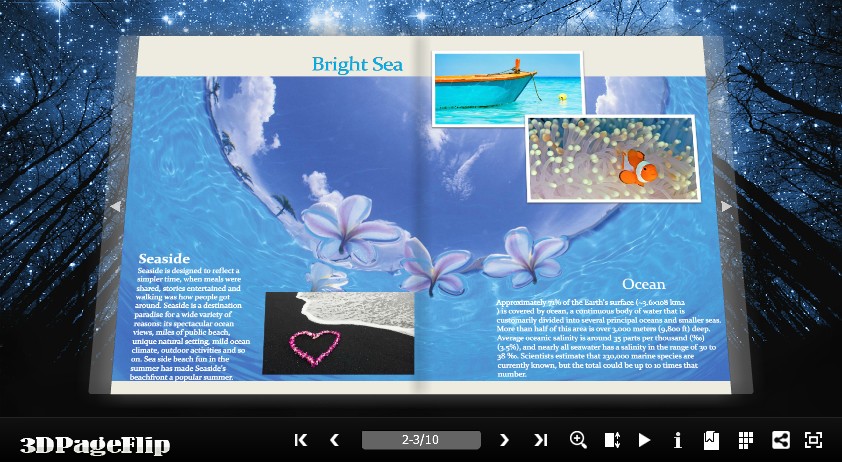 Related Tags: free, templates, themes, 3d, nature, scene, view, earth, world, falls, desert, star sky, polar lights, snow, sunglow, images, 3d