Version: 2.0
Release Date: 30 Apr 2010
Supported Languages: English
Supported OS: Windows2000,WinXP,Windows2003,Windows7
File Size: 1.30MB
Program Type: Shareware
Price: $129.00


What you not getting any software which can easily compress outlook PST archives with attachments? You should try SysTools Compress PST software which is more helpful to compact your Microsoft Outlook PST files automatically. SysTools Compress PST software usage advance techniques to compress Outlook PST archives and shrink PST file size limit. Outlook PST Compression software successfully automates the maintenance of .PST files and minimizes Outlook PST files sizes. Compress PST software also speeds up access to stored messages. SysTools PST Compaction tool is a stand alone program which is transparent to the user and runs with Windows 98/2000/ME/NT/XP/2003/Windows7 and Vista. SysTools Compress PST software is an easy to use PST compression tool with advance features like: users can compress PST files without saving the attachments, users can extract the attachments and the attachments will be saved in a zipped file format in a separate folder of PST file. PST file compaction software compress Outlook PST files created using MS Outlook 2000/2002/XP/2003/2007. SysTools PST Compress 2.0 software is now available for download with free of cost & a test drive. Demo version of PST Compaction software will save only first 10 items of every mail folders.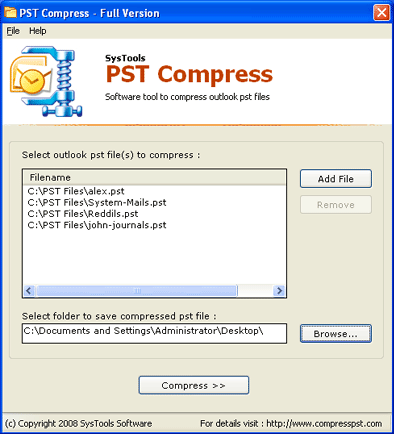 Related Tags: compress pst files, compress pst, pst compress, pst compression, pst compact, pst compaction, pst file compaction, compress outlook pst