DataSymbol Barcode Reader SDK 5.03
by RKD Software

Version: 5.03
Release Date: 26 Mar 2010
Supported Languages: English
Supported OS: WinXP,WinVista,Win7 x32,Win7 x64,Win2000,Windows2000,Windows2003,Windows Vista U
File Size: 3.35MB
Program Type: Shareware
Price: $99.00


Barcode Reader SDK is a barcode reading software package designed for developers who want to be able to integrate barcode image reading directly into their applications. It allows you to read barcodes from image files in a number of different formats. It also allows you to read barcodes from data streams and directly from cameras. It also has a very quick decoding time, and it includes features which allow you to decode barcodes that have been damaged. Large image sizes can also be decoded quickly. This barcode decoding method supports a number of different platforms and it allows you to work on mobile devices in real time. Using an accurate barcode reading method, you can enjoy high performance, high speed and an extremely good degree of reliability. This software developers kit may be used in a number of different development environments including Visual C++, C#, Delphi, VB, VB6 and VB.NET. The package is also especially easy to use in any of the supported software environments, and you can easily distribute it since it consists of a single DLL file that is only 280 KB in size.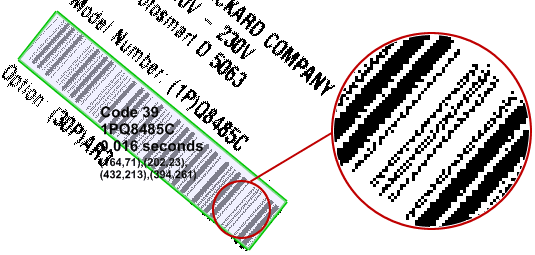 Related Tags: barcode reader, decoder, reading, decoding, image, sdk, linear, 1d, 2d, pdf417, datamatrix, code128, code 39, interleav