Version: 9.0
Release Date: 03 May 2009
Supported Languages: English,Spanish
Supported OS: Win95,Win98,WinME,WinNT 4.x,WinXP,Windows2000
File Size: 2.07MB
Program Type: Freeware
Price: $0.00


Do you have a number of excel spreadsheets that you need printed at once, but don t feel like manually having to open each and every single file just to print it? Wouldn t it be nice if there was an automated, or quicker way of doing this? Well, there is! And this software is the solution. If you want to print off multiple microsoft excel documents at once, then this software is for you! With this software, you can easily: Easily print off multiple Microsoft Excel Documents/Spreadsheets at once! Plus, you can select files from multiple directories all at once! Simply select the Microsoft Excel Spreadsheets that you want to print off, and enjoy! Easy to use, click and point interface! Once you ve selected the files you want to print off, you can easily choose to print them all at once! Additional options such as printing the active sheets in the file, or printing off all the sheets! Exceptionally easy to use, this gives you additional functionality! Download this software now, and start automatically printing off your Microsoft Excel documents now!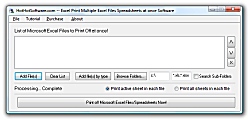 Related Tags: excel print spreadsheets, icexcel, spreadsheet, spreadsheets, spreadsheet software, microsoft excel, learn excel, vba, microsoft excel t