ImTOO iPhone Ringtone Maker for Mac 3.0.1.0603
by imtoo.com

Version: 3.0.1.0603
Release Date: 08 Jun 2011
Supported Languages: English,Chinese
Supported OS: Mac OS X
File Size: 38.74MB
Program Type: Shareware
Price: $19.95


ImTOO iPhone Ringtone Maker for Mac provides the easiest and quickest solution to create iPhone ringtone from video or music and transfer it to your iPhone directly. This Mac iPhone ringtone maker software supports converting almost all video/audio formats and trimming video/audio to make the most colorful clip as your iPhone ringtone.

New features:
1.Added the display of audio waveform for more precise adjustments of start point and end point.
2.Improved user experience in ringtone editing to make ringtones more handily.
3.Enriched ringtone management functions:
Append ringtone files from PC to iPhone directly.
Rename ringtones on iPhone.
Export ringtones on iPhone to iTunes and PC.
4.Added basic information of audio and video files.

Key functions:
1.Supports to add files by dragging and dropping
2.Makes ringtone more precisely with the time set to millisecond.
3.Supports fade-in and fade-out effect of ringtone.
4.Added the function of adjusting ringtone volume.
5.Supports to name the ringtone freely.
6.Convert any music file format like MP3, WMA, WAV, RA, M4A, AAC, AC3, OGG to M4R file as your iPhone ringtone.
7.Extract music from your loved video file like AVI, MPEG, WMV, DivX, MP4, H.264/AVC, AVCHD, MKV, RM, MOV, XviD, 3GP and so on, and make iPhone ringtone with it.
8.To make iPhone ringtone with music purchased from iTunes store using this software is as easy as iTunes does.
9.Directly transfer the converted M4R ringtone to your iPhone after making iPhone ringtone without iTunes.
10.If you only prefer the most colorful music segment, you can easily drag and drop to get the segment and make it into iPhone ringtone.
11.To help you get the very part you want, the Mac iPhone ringtone creator provides a built-in player to play the music or trimmed segment before converting.
12.You can easily make iPhone ringtone just at a glance: just add video or music file, and click to make ringtone.
13.Multilingual interfaces are offered.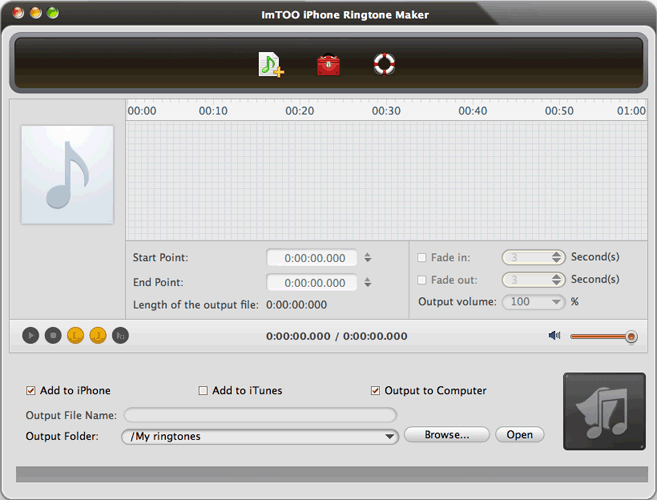 Related Tags: iphone ringtone ripper, iphone ringtone converter, iphone ringtone creator, iphone ringtone maker for mac