Version: 5.0
Release Date: 12 Sep 2002
Supported Languages: English
Supported OS: Win95,Win98,WinME,WinNT 4.x,WinXP,Windows2000
File Size: 5.87MB
Program Type: Shareware
Price: $39.95


Whether you connect to the Internet occasionally with a dial-up connection, or you are constantly connected via DSL, Cable, Satellite or via a Network, your personal data is at risk now more than ever. It used to be that hacking attacks came from the outside world (the Internet) and simple, low-cost firewalls could protect your data. Today hackers and web snoops are using more sophisticated viruses, cookies, Trojan Horses and other malicious software tools to gain access to your PC. Once they gain access, they put unsafe applications on it that are designed to expose your data from the inside. My Firewall Plus protects your computer by stopping hackers and other intruders from gaining access to your system and data. At the same time, it prevents hidden or unknown software (the kind a virus could install) from connecting to the Internet without your knowledge. My Firewall Plus is an advanced, bi-directional intrusion defense system that's both easy to configure and easy to use. My Firewall Plus makes your computer impenetrable to the outside world. It installs easily and automatically detects your Internet connection and settings. Simply turn it on and you're ready to go with the advanced protection required by today's computing environment. If an intrusion attempt occurs, My Firewall Plus' automatic intrusion detection instantly defends and blocks it. You are immediately notified and your Internet connection is adjusted to prohibit further attacks. Likewise, if an unauthorized application on your system attempts to access the Internet, My Firewall Plus intercepts and blocks it, then advises you of the situation. My Firewall Plus supports all types of Internet connections, from dial-up to broadband Internet connections. Advanced, customizable security profiles enable fast configuration and provide the safest, most flexible solution available today.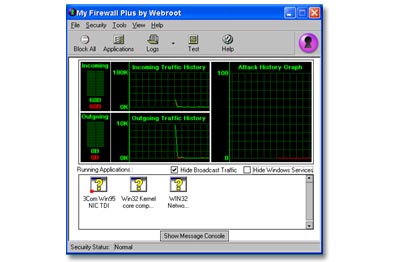 Related Tags: computer firewall, computer protection, firewall, firewall protection, firewall security, firewall software, hacker protection, informa