Pocket PC SMS Messaging Software 4.0.1.6
by Undelete software

Version: 4.0.1.6
Release Date: 09 Dec 2008
Supported Languages: English
Supported OS: Win98,WinME,WinNT 3.x,WinNT 4.x,Windows2000,WinXP,Windows2003,Windows Vista Star
File Size: 72KB
Program Type: Shareware
Price: $45.00


Pocket PC to mobile bulk text messaging software is read only non destructive application which facilitate user to quickly send text SMS from Pocket PDA device to any branded mobile phones. Advanced Pocket PC to mobile SMS sending application safely delivered valuable text SMS containing business information to mobile phones. Pocket PC bulk SMS broadcasting utility also provide facility to send group messages and allow keeping in touch with family members and friends. Professional message sender application quickly sends text notification alert from Pocket PC and PDA mobile device to cell phones without any delay. Pocket PC/PDA to mobile text alert sending utility does not required internet connection to send SMS. Software support various branded smart phones including Samsung SCH-i730 Pocket PC phone, Audiovox Thera, Samsung SGH-i300, Sharp W-Zero3 PocketPC Phone, Samsung SCH-i600, Carrier Devices i-Mate Smartphone, Siemens/AT&T, Dopod StrTrk S300, E-ten M600 Pocket PC Phone. User friendly SMS sender tool via Pocket PC helps to compose and transmit unlimited number of text messages to mobile phones in few minutes.
Features:
* Pocket PC to mobile bulk text messaging software quickly send group message from PDA to any mobile phones.
* Windows message deliver utility does not require internet connection or any other external device to send messages.
* Advanced PDA to mobile SMS sender utility is compatible with all smart phone and Pocket PC.
* Message deliver utility has reliability for business travelers who need up-to-date business information.
* Pocket PC to mobile message deliver application has interactive GUI feature for easy use.
* PDA to mobile SMS deliver software easily installed on any Windows based mobile phones.
* Easy to use PDA to mobile SMS sender application has simple and interactive GUI for non technical users.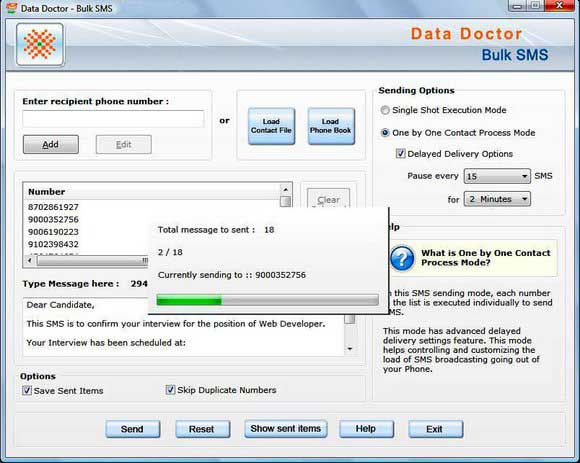 Related Tags: pocket pc, mobile, text, messages, utility, broadcasting, sms, alert, national, international, cell, phone, pda, unicode, suppor