Version: 4.3.03
Release Date: 23 Aug 2011
Supported Languages: English
Supported OS: WinXP,WinVista,WinVista x64,Win7 x32,Win7 x64,Win2000,WinServer
File Size: 73.65MB
Program Type: Shareware
Price: $697.00


Introducing TATEMS 20/20...Since 1998 TATEMS Fleet Management Software Program has been Making Life Easier For Fleet Managers because thay have FINALLY DISCOVERED a fleet maintenance software program that is SO SIMPLE and SO EASY TO USE ... You'll Discover as 1000's of mechanics, technicians, office personnel, fleet maintenance managers and company owners have... that TATEMS 20/20 Truck Maintenance Software strikes just the right balance between AMAZING SIMPLICITY and POWERFUL FEATURES you'll actually use. Using a "Keep It Simple" philosophy... TATEMS Truck Fleet Maintenance Software can help you save thousands of dollars in preventable repairs and will slash hundreds of hours off your paper work headaches. DOT and BIT 90 Day Inspections + Reminders, Lube/Service intervals by miles, days , hours + Reminders, Fuel Log, cost per mile/km for any time period, Track miles/km within a State/Province, Track which driver was driving which equipment, Track Insurance + Reminders Work Orders enter and print pending and completed, ,Parts Inventory, Track Common parts on a piece of equipment, Track Filters used on a piece of equipment, Track Tires and Wheels used on a piece of equipment, Track permits issued expiration + Reminders Haz Mat inspections at your facility, Driver CDL and Physical renewals + Reminders, Smoke Inspections + Reminders, Track Registrations + Reminders, Multiple Lube Service types per equipment + Reminders, Track MCC, HUT, MVT + Reminders, Extensive Reports/Printouts PLUS MUCH MORE....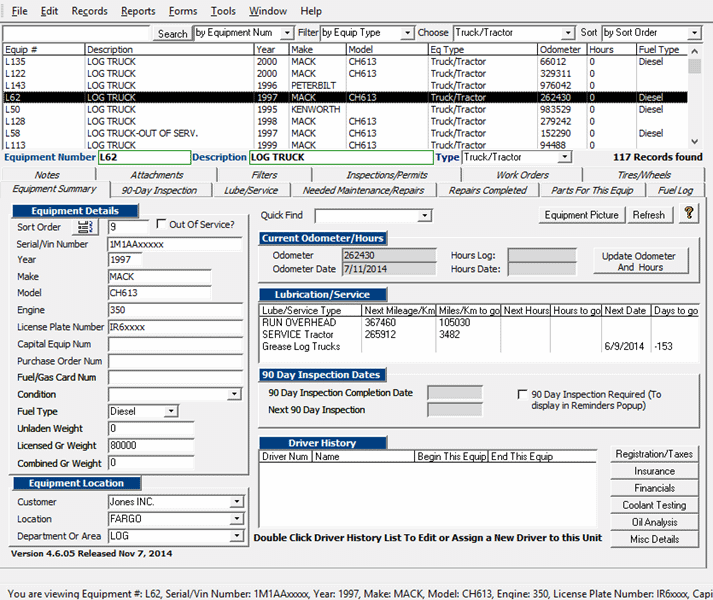 Related Tags: maintenance software, fleet management software, fleet maintenance software, cmms, truck maintenance software, maintenance managemen