TRx Pocket PC Phone Call Recorder 4.11
by NCH Software

Version: 4.11
Release Date: 10 Jun 2009
Supported Languages: English
Supported OS: Pocket PC,WinMobile,WinOther
File Size: 1.36MB
Program Type: Shareware
Price: $34.95


TRx is a phone call recording program for Pocket PCs and Smartphones. This phone recording software allows you to manually or automatically record telephone calls on your portable device.Designed to help you meet legal call recording requirements for business the TRx phone recorder is simple to install and easy to use and you'll be ready to record telephone calls in just minutes.

TRx Features
* Save recordings as wave or gsm files
* Automatic mirror of recordings to an alternative folder for backup
* Regulates recording volumes levels automatcially
* No extra hardware is needed

About NCH Software

NCH Software is a leader in audio, video, music, mp3, cd, dvd, telephony, dictation, transcription, business, and computer utility software for Windows, Palm, Pocket PC and Mac OS X. NCH has released over 80 products since 1993 and have received many awards for software excellence. Download Software for DJ, broadcast, stream, record, edit, convert, burn, mix, split, tag, rip and play audio files for wav, mp3, and other popular file formats.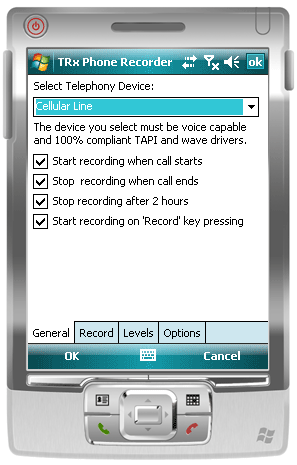 Related Tags: call recorder for pocket pc, pocket pc call record, recorder for pocket pc, smartphone call recorder, mobile call recorder, pocket pc