Version: 3.1.1.46
Release Date: 09 Jan 2005
Supported Languages: English
Supported OS: Win95,Win98,WinME,WinNT 4.x,Windows2000,WinXP,Windows2003
File Size: 4.05MB
Program Type: Shareware
Price: $35.00


Flexible gradebook program for teachers that has plots, statistics, seating charts, db items, and attendance. It allows an unlimited number of letter or number grades. Any grading system can be used. Passwords can be used to protect classes. You can print data by student or by class, and adjust them numerous ways. Scores can be summed, weighted, and dropped. Extra credit, statistical values such as T-scores, and attendance can be used to compute grades. Student trends can be computed and plotted, and you can calculate whatifs to earn particular grades for students. Tests can be correlated. Classes can be subdivided into sections, and each section analyzed separately or in any combination. You can email grades to students, parents, or your registrar. You can post any printout on the internet, including plots and missing assignments. You can also design your own printouts.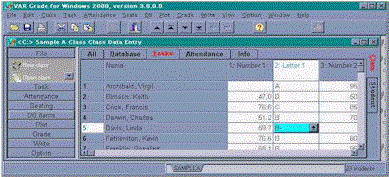 Related Tags: gradebook, grades, grading, attendance, statistics, plot