Version: 2.5
Release Date: 30 Jul 2004
Supported Languages: English,French,
Supported OS: Win98,WinME,Windows2000,WinXP
File Size: 2.16MB
Program Type: Freeware
Price: $29.95


Pop-Up Washer stops annoying ads other pop-up blockers can't, like mouse-over, delayed, and mass attack pop-up ads. Unlike other pop-up blockers, the program allows user-initiated and navigational pop-up windows you need to maximize your online experience. If you are tired of being bombarded by intrusive pop-up ads that plague nearly every Internet user, Pop-Up Washer is the perfect addition to your online world. Pop-Up Washer stops pop-ups at the Internet Explorer engine before they appear, preventing screen flickers common to other pop-up blockers. With one-click activation, you have the option to log blocked pop-ups. Customize which sound you want to hear when Pop-Up Washer blocks an ad. Pop-Up Washer installs quickly, operates without getting in the way of your system resources, and offers easy-to-use features that will dramatically improve your online experience.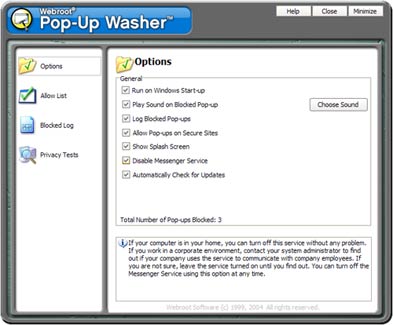 Related Tags: pop-up, pop-up remover, ad windows, pop-up blocker, pop-up ad, pop-up stopper, pop-up killer