RightWriter Grammar Analysis 5.0.22.0
by Elite Minds Inc

Version: 5.0.22.0
Release Date: 01 Sep 2008
Supported Languages: English
Supported OS: WinNT 4.x,WinXP,Windows2000,Windows2003,Windows Tablet PC Edition 2005,Windows M
File Size: 2.38MB
Program Type: Demo
Price: $39.95


RightWriter solves your writing problems. Does your writing make you sound less intelligent than it should? RightWriter can fix your grammar problems instantly and make your writing look intelligent, polished and professional.

RightWriter is much more than a simple grammar analysis tool It analyzes your writing as a whole and finds not only grammar errors, but it warns you when it finds weak writing sytles. It also shows you how to improve those weak areas. Even when your grammar is technically correct, there may be parts of your writing that need to be improved. Simply removing or changing a word can make your meaning clearer.

A well written report can make the difference between receiving a grade of A+ or D-. A well written cover letter can mean the difference between getting a job or not. An email or blog post with proper grammar can make the difference between appearing ignorant or intelligent or between being taken seriously or dismissed as unimportant. Do you want your writing dismissed by those who read it? Then here is how you can improve your writing.

RightWriter Helps You:
Avoid Embarrassing Mistakes,
Appear Intelligent and Capable,
Make Your Writing Stronger And More Compelling,
Give Others Confidence In Your Ability,
Improve Your Grades,
Improve Your Effectiveness at Work,
Improve Your Ability To Find a High Paying Job,
Improve How Clients and Co-Workers See You,
Improve Your Writing If English Is A Second Language,
Make Others Take Your Opinions Seriously!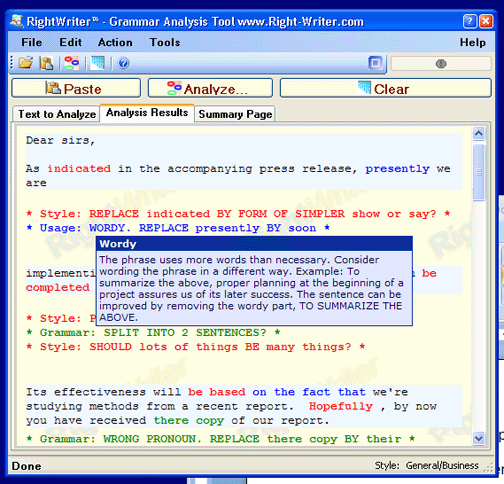 Related Tags: grammar, spell check, analysis, whitesmoke, writers workbench, rightwriter, right writer, write writer, checker, writing tool, i